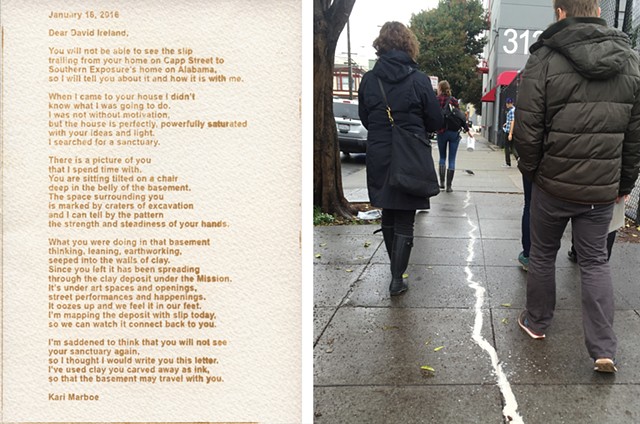 Basement Clay
6 Block Scores
Southern Exposure + 500 Capp Street Foundation
clay from David Ireland's basement, paper, polycrylic
2016
CONCEPT In conjunction with the public opening of the David Ireland House by 500 Capp Street Foundation, Southern Exposure presented new works by three local contemporary artists that responded to the life and work of the late conceptual artist. A seminal figure in the Bay Area art community from the 1970s onward, Ireland is known for his site-specific installation works, most notably his residence at 500 Capp Street. The projects by Kari Marboe, Minji Sohn, and Haegen Crosby, highlighted the continued strong influence on young artists of Ireland's collaborative relationship to material and his commitment to process and repetition.
Kari Marboe's Basement Clay referenced the geological connection between the building at 500 Capp Street and Southern Exposure. David Ireland was known for mining resources found in his home, including the clay floor of the basement, which he excavated to the point where it was necessary to install lumber supports to prop up the house. This clay deposit runs under Southern Exposure's building as well. Marboe mixed the clay with water to create a slip, and has used this slip to print a letter to Ireland and trace a path between the two buildings, speaking to the continued influence of Ireland's work on artists and art spaces throughout the area.
SITE 500 Capp Street and Southern Exposure, San Francisco, CA
PARAMETERS One day, commissioned performance, demonstrate influence DI has had on your contemporary ceramics practice.
LINKS 6 Block Scores
TEXT
January 16, 2016
Dear David Ireland:
You will not be able to see the slip
trailing from your home on Capp Street to
Southern Exposure's home on Alabama,
so I will tell you about it and how it is with me.
When I came to your house I didn't
know what I was going to do.
I was not without motivation,
but the house is perfectly, powerfully saturated
with your ideas and light.
I searched for a sanctuary.
There is a picture of you
that I spend time with.
You are sitting tilted on a chair
deep in the belly of the basement.
The space surrounding you
is marked by craters of excavation
and I can tell by the pattern
the strength and steadiness of your hands.
What you were doing in that basement
thinking, leaning, earthworking,
seeped into the walls of clay.
Since you left it has been spreading
through the clay deposit under the Mission.
It's under art spaces and openings,
street performances and happenings.
It oozes up and we feel it in our feet.
I'm mapping the deposit with slip today,
so we can watch it connect back to you.
I'm saddened to think that you will not see
your sanctuary again,
so I thought I would write you this letter.
I've used clay you carved away as ink,
so that the basement may travel with you.
Kari Marboe