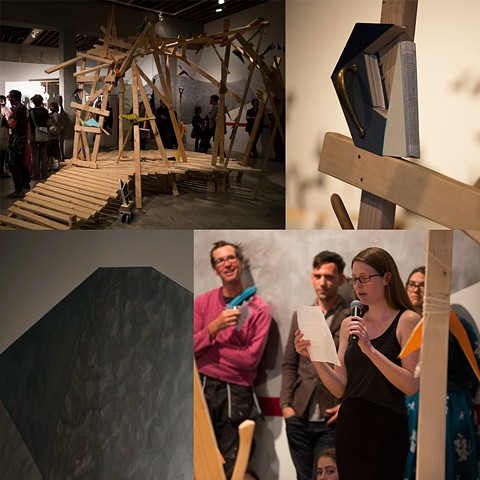 A Brief, False History of Hinterland Storage Space Unit 12
Reverse Rehearsals
Southern Exposure, SF
2013
Dates
Phase 1: May 7-11, 2013 – First group of artists create sets within the exhibition space Phase 2: May 11-16, 2013 – Second group of artists create objects, props, and images to fill the sets
Phase 3: May 16-30, 2013 – Artist Writers (INCLUDING MARBOE) work on responses, plays or short stories using text
Final Event: May 30, 2013 – Public Reading by Artist Writers and Closing Reception
Description
Playing on the idea of reverse engineering, Reverse Rehearsals turns the storytelling process inside out. The project begins with the creation of theatrical sets and culminates with a dramatic reading of new written works. Reverse Rehearsals brings together six visual artists and seven artist writers who interpret and respond to each other's work in three separate stages of making.
In the first phase of the project, three artists (Terry Berlier, Patrick Gillespie and Julie Henson) use the gallery space of Southern Exposure as an empty stage on which to design and build three sets. Next, three more artists (Maria Porges, Jenene Nagy and Weston Teruya) respond by creating objects and images to fill the sets. Finally, seven writers (Dodie Bellamy, Victoria Gannon, Susan Gevirtz, Kari Marboe, Pam Martin, Kyle Metzner and Michael Swaine) engage with the populated sets and respond with a piece of writing. The project closed with a public reading and reception on May 30, 2013. Reverse Rehearsals points to the unexpected outcomes within artistic creation, highlighting the exciting moments of affiliation and collaboration between artists, writers, and the narratives they create.
Entire Text
(read aloud in Southern Exposure on May 30, 2013)
A Brief, False History of Hinterland Storage Space Unit 12, Kari Marboe
F lived off of a grant she had written and received in her early twenties from a group of curious ladies that had since passed. Her only task was to collect novels with handwritten inscriptions found on the first page. The grant specified that she reach ten thousand and, with an equal sense of duty to the grant and a lack of knowing what she would do afterwards, F worked on her assignment daily. She traveled to used bookstores and estate sales, picking up novels, transcribing the inscriptions into a binder, and adding them to the collection. She wondered if the authors knew that their messages were still around. That the marked moments remained intact and were now meaning things to other people. "Entry 6,227: To Melanie, A very special person on a very special day. Congratulations. With love, John. January 12, 2002. The Amazing Adventures of Kavalier and Clay."
F met M at a cafe next to his office where he hit on women. F liked being hit on and M liked hitting on F so they worked out a schedule to let them enjoy that as much as possible. At thirty-six, M's hip gave out and he was forced to take time off of work to have it fixed. He turned the first floor of their space into a shop for the cutting, connecting and tinkering of moving parts with a focus on ball-and-socket joints. Upon recovery, M received a notice that his hip replacement had been recalled, so he sued the manufacturer, had the surgery again, and proceeded to dismantle and reconstruct his projects unendingly.
Extra parts and half finished projects went into a Hinterland Storage Space unit off the 108 that they originally rented when F moved in. Over time they sorted through her items and everything useful was placed in their storage closet at home, or in the lofted bedroom accessible only by ladder, as the first and second floors were filled with M's shop and F's book collection. When complete, F saw a chance to do something she had been meaning to do, and drove all of the books used to dissolve relationships out of the house, feeling that no good could come from keeping them inside. M felt bad about their exile to Unit 12, and at one time tinkered with the novels. With a few modifications they gained new forms, including a book-hammer that very efficiently smashed a hole through an incomplete tree house for cats, but altering them physically couldn't change their embedded sentiments. "Entry 922: My reasons for leaving you fall into one of these three categories: boredom, infidelity, new job. This will be the only shared possession you'll be taking with you as I purchased everything else. December 1989. East of Eden."
So the displaced novels remained in storage and were added to when needed, as were a couple of the wall surfaces that held M and F's own painful and private memories. They wanted to remove the feelings from their house of present and future, remember not to make the same mistakes again, and secure all the particles in one place so they wouldn't float into the world and infect others.
One layer came from written accounts of how they came together, containing details of the most selfish and regrettable acts involved. They piled the stacks of history into the fire one night, mixed the ashes with paint, and secured the moments onto the walls in thick, gray abstractions.
A second layer came from their wedding video. Activities surrounding the nuptials had been privately guarded and it was only later that they were told a guest had captured the things they wished they could have related to one another in private. A package came a few weeks later with a congratulatory check and the recording, lavishly decorated. In unison they burned the tape, sponged the white ash mixture onto the walls, and continued to let only their own perspectives on the day live with them in the house.
As was to be expected, Hinterland Storage Space Unit 12 slowly filled as the contents of each collection expanded. Eventually they rented Units 13 and 14 as well.